About Us
Genesis Engineering & Thermal Solutions Co., Ltd is a highly progressive and technically advanced company with local and international experience in providing professional solutions in Thermal Energy and Process Equipment. We entered the Thai market in the year 2000 as a supplier of heat exchangers and pressure vessels. With our rapid expansion, we now operate a technologically advanced manufacturing facility in Rayong, Thailand. As a leader in Process Equipment, Energy, and Environmental solutions, we have been consistently delivering state of the art solutions for the ever changing industrial demands. With a wide assortment of product designs, we ensure all the demands of our clients are met optimally. Our products are engineered and manufactured by experienced technicians who have been devoted to the science of heat transfer for decades following international standards such as the International Organization of Standardization (ISO), American Society of Mechanical Engineers (ASME), American Petroleum Institute (API), and Tubular Exchanger Manufacturers Association (TEMA). We have a wide variety of industrial products from process equipment & project division to energy & environment division.
OUR VISION
To develop our company to be a market leader in business across Thailand and around the world, a family to our employees, and a trusted supporter to our community. Our vision is to provide industry-wide thermal solutions and process equipment for our customers.
OUR MISSION
To ensure our genuine contribution to further development of efficient & sustainable energy systems and to be recognized in the marketplace as a manufacturer of High Quality engineering solutions and products.
CERTIFICATIONS
ISO 9001: 2015 - Applicable to the Manufacture & Installation of Thermal Engineering Equipment. ASME U Stamp - Applicable to the Manufacture of Pressure Vessels. ASME S Stamp - Applicable to the Manufacture & Assembly of Power Boilers. The National Board R Stamp - Applicable to the Repair & Alterations in Pressure Vessels. Green Industry Certificate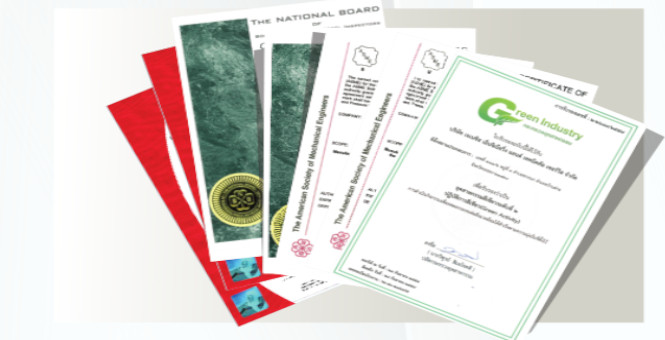 What we offer to our clients